Do you remember the time 'ripped jeans' was a fashion statement back in the 80's. Who started it all? Morten
Harket
, lead vocalist of my ultimate 80's band.... a-ha! Someone told me that it got invented by accident actually, tore his jeans as he was running to the stage, hitting an amplifier on the way. After many years, it becomes 'the' hottest item in display windows throughout the world. What a way to start a fashion statement, don't you think so.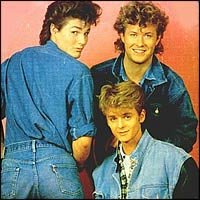 Even during my schooling days, there was always the three of us ; Vickie, James and Me, we were on 'our very own way the a-ha'. From the dressing, leather strips

sling'ed

on the wrist & even the hairstyle, all were part of our

life's

back then. And I always chose to be Morten (don't ask me why...) Maybe, because he looked like Elvis & James Dean put together. Those were really good times. I really miss my buddies!
Believe it or not, every time I listen to their hit single - Take On Me, it sends shivers all over my body, but definitely not like the ones that you get when you watch horror movies. This happens until today. It's got that special place in me. Simply put, this has to be my absolute favourite of all time.
In 1985, Take On Me became a major hit on both sides of the Atlantic. It was originally called 'Lesson One' which failed in its earlier releases. The single - Take On Me, sold 1.5 million copies worldwide in just one week.
Currently two concerts have been lined up for this year;

Fredrikstad

Stadium in

Fredrikstad

, Norway on Friday, August 17 and the other one at

Alfheim

Stadium in

Tromsø

, Norway on Saturday, August 25.



Albums

:

Parting words......wish Malaysia 'exists' in their up-coming concert schedule??